Our sustainable commitments
Since 2019, our company has decided to commit to Corporate Social Responsability (CSR) because our values are those of Sustainable Development. How de we commit ? We give you some examples here.
Committed to the decarbonization of our production!
0

Natural gas consumption, a reduction equivalent to the consumption of 343 households compared to 2018

50%

Share of green energy targeted in our consumption in 2023

-47%

Decrease in our energy consumption since 2018
The history of our energy actions:
2017

"Mindful of its energy footprint and committed to continuous improvement in 2017," LC SALAISONS EN ARDECHE carried out his first energy audit on the site. Following this, work was undertaken to reduce our energy consumption.

Following this, work was undertaken to reduce our energy consumption.
2019-2020

The completion of a second energy audit allows us to quantify our gas and CO2 savings compared to 2017. Thus, we installed the first heat storage tank for partial recovery of the cold group's heat. Natural gas consumption is reduced by 35%; electricity consumption is reduced by 150kWh (equivalent to the consumption of about 100 households), and CO2 emissions are reduced by 23%.

2021

Beginning of the ISO 50001 certification process (which is a method for managing the improvement of our energy policy):

LC SALAISONS EN ARDECHE invests in the upskilling of its teams and hires a refrigeration expert, trains an Energy Referent within the company, and establishes its energy policy.
2022

New initiatives are adopted as part of ISO 50001:


● Replacement of the cold plant with integrated speed variators. The new plants are more modern, therefore less energy-consuming, and better suited to the company's needs. (less 20%)


● Installation of new refrigeration units allowing full recovery of the heat produced: this action makes it possible to be self-sufficient in calories in the sausage drying process and to preheat domestic hot water up to 40°C.


● Implementation of a thermodynamic panel installation to produce the missing 20 degrees to heat sanitary hot water up to 60 degrees required.


Result: we have succeeded in completely eliminating the consumption of natural gas on our site, which was one of the most CO2-emitting posts on our site.

Thus, thanks to the various actions carried out during 2022, we obtain ISO50001 certification, a sign of recognition of the seriousness with which we have engaged in our transformation over the past 6 years.


LC SALAISONS EN ARDECHE is also awarded the 2022 Trophy for the Ardèche Economy in the "Sustainable Development" category.

2023

In order to very precisely monitor our consumption by energy usage, identify anomalies, and better adapt machine operation to the needs of each consumption post, we are implementing a real-time energy measuring and control system.

We are investing in the installation of 1700 photovoltaic panels (for a power of 700,000 watt-peak) on a surface area of 3355 m2 for total self-consumption with a forecast of around 50% electricity autonomy from April 2023.

Finally, we are finalizing the site's relamping with the installation of motion sensors and presence sensors.

As an SME, we are proud of the priority we give to improving our environmental footprint and the actions implemented and results achieved in recent years. Buy this saucisson, it is participating together in the investment effort made by our SME and contributing to the preservation of our environment.

We will continue unwaveringly with this commitment and will continue to offer our customers quality products, in line with our values of transparency and fairness towards our pig farmers because a good saucisson is also good raw material.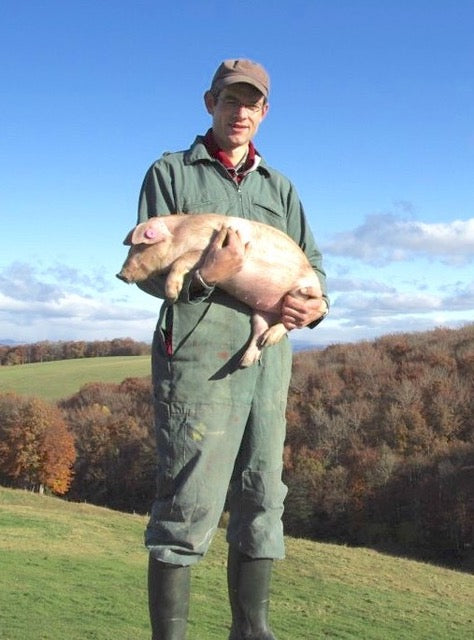 Support for pork producers in our mountains!
In mountainous areas, pork farmers are facing economic challenges and gradually stopping their activity due to a lack of income.
The LC Salaisons en Ardèche company has decided, thanks to you, to support them: for each purchase you make of Mountain and Ardèche saucisson, pork farmers receives additionnal added value for each kg of meat they sell.
With your purchase and our work together, pork farmers receive a fairer price and we hope that our commitment will be meaningful to our grandchildren.
'Vivons Montagne' Endowment Fund
LC LC Salaisons en Ardèche is a sponsor « VIVONS MONTAGNE » of the "VIVONS MONTAGNE" endowment fund to accompany and support local projects carried out by local players to make rural areas more attractive.
We also engage in:
Respect for employees

The company is dedicated to improve employees' work environment: our investment program favors equipment that limits the strenuousness of manual work (with robots, break rooms, ect.).

Additional support for local life

LC Salaisons en Ardèche promotes local activities by opening the company doors to students, and by participating in local cultural life.

Fight against food waste

As part of an anti-food waste program, LC Salaisons en Ardèche has launched a food donation partnership with the Student Solidarity Collective in Lyon.

Involvement in waste control

LC Salaisons in Ardèche is part of the collective operation Optim'déchets in order to find the best way to control and recycle our waste.
Since 2018 we have been ISO 22000 certified! What does that mean ?
The ISO 22000 standard is based on the willpower of the Léon Chaillot company to invest in quality procedures and continuous improvement of the food chain.
This certification that extends internationally is also called "Standard of food safety management systems". Its purpose is to cover all stages of the production of our cured meats. It ensures consumer that our products meet the requirements of hygiene regulations and guarantees food safety.
This standard allows us to be even more transparent to you, our customers, in our quality procedures.
Perfection knows no bounds!